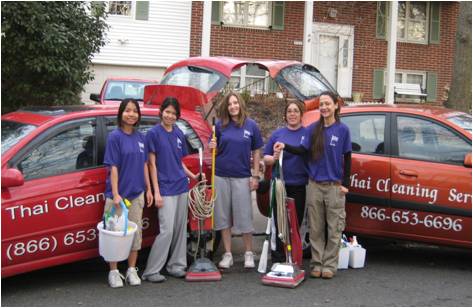 Nothing is quite like coming home after a busy day at work to a house that's spic and span and smells fantastic. A clean home gives you a sense of peace and allows you to truly enjoy being there — and it's even better when you're not the one doing the dusting or vacuuming.
Thai Cleaning Service is a professional maid service right here in Baltimore, Maryland, that wants to make your dream of a clean home a reality. Our team of hardworking maids takes the time to get to know your individual preferences, so they can clean your house just the way you like it.
Lots of big franchise cleaning companies exist in and around Baltimore, but Thai Cleaning Service is a local, family-run maid service. This means we can provide better, more individualized services for a more reasonable price. We are committed to bringing the joy of a clean home to our community of friends and neighbors.
[maxbutton name="Get a Free Estimate"]
So Many Reasons to Choose Baltimore's Thai Cleaning Service
When you choose Thai Cleaning Service, you'll be getting superior service from a company that understands the needs of the local Baltimore community — because this is where we live, too. Our maid service can provide benefits you won't find from big, impersonal cleaning companies. Some of the advantages we're proud to offer residents throughout Baltimore and beyond include:
Contact Thai Cleaning Service of Baltimore
For a different kind of maid service experience, we invite you to contact locally owned and operated Thai Cleaning Service. We can provide you with a free, no-commitment estimate and consultation for your home in Baltimore or the surrounding communities. We're far less expensive than our big-name competitors and are proud to deliver superior maid cleaning services no matter what.
[maxbutton id="1″ text="Get More Information"]