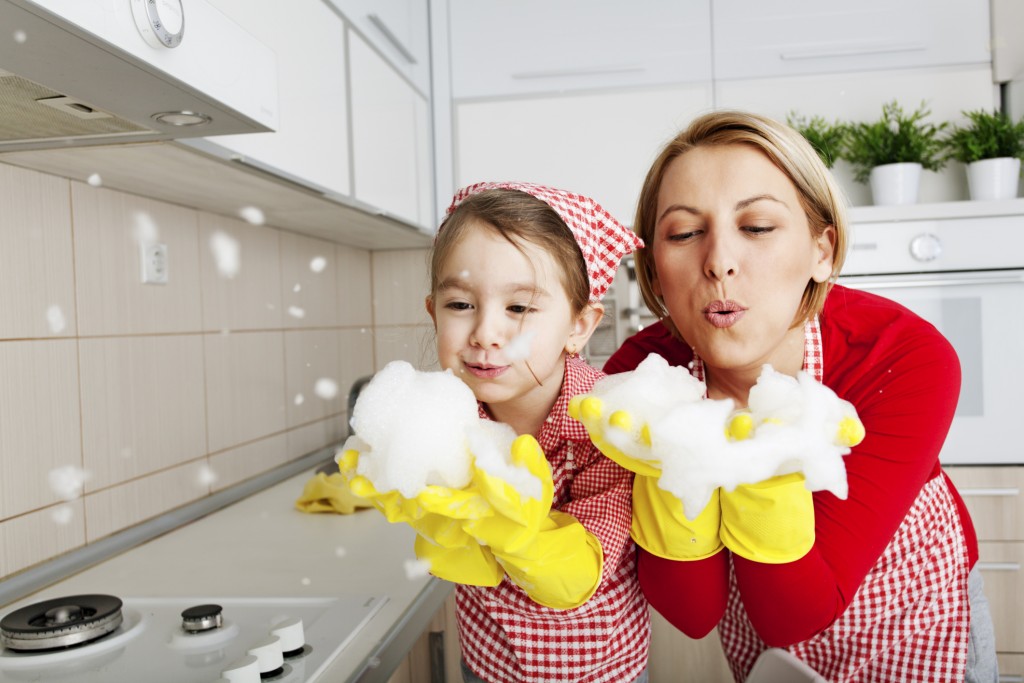 This is the new program that Thai cleaning services started over a year ago with fabulous results!!
Are you looking for professional and trustworthy cleaning services to keep your home clean, decluttered, sanitized and as beautiful as new? With work, errands, family and other responsibilities, it can be hard to keep up with cleaning and keeping your household neat, especially when you want to spend what free time you do have exercising, enjoying time with loved ones or sneaking in a little relaxation.
You might be searching for a company that offers just cleaning services, but maybe you're not sure what kind of service you'll receive or whether you'll be comfortable with someone in your house. No one understands hectic schedules and household responsibilities like moms — that's why TCS's "Thai Cleaning Service" is the perfect solution for you.
Mothers with children in preschool to high school tend to have trouble finding jobs that fit their busy lifestyles. Through our "Mom's Cleaning Service" program, we offer them cleaning jobs that are flexible and beneficial for both them and you! They drop their kids off at school, head out and clean your house (and ONLY your house), run a few errands, then head back to pick up the kids from school. Works perfectly.
This also benefits our customers! This program usually interests a level of employee that would normally not consider a job in residential cleaning. You get more responsible, honest, hard-working people that understand your needs better. And we get trustworthy housecleaners who put their all into every job they do.
You also have someone who is only cleaning one house per day, unlike many of our competitors where their staff can clean 3, 4 even 5 houses a day! We assign this cleaner to your house on a regular basis so they get to know your house and learn your individual preferences and pet peeves.
Your mom house cleaner becomes someone you can trust and rely on for jobs both big and small. And when you have a deep cleaning you'd like to get done, say before guests come for the holidays or spring cleaning, this individual can lend an extra hand. They're even available if surprise tasks pop up that are outside her usual routine.
[maxbutton name="Get a Free Estimate"]
House Cleaning Tasks Performed by Your "Moms Cleaning Service"
As a locally owned house cleaning service, we want to ensure our neighbors in all the Maryland communities we serve get just the cleaning services they want. Big name franchises sometimes try to add on other services you don't want or need. But at Thai Cleaning Service, we focus on just cleaning services. Your "Mom's Cleaning Service" does just the jobs you want, and nothing more. From big tasks to small, some of the cleaning services you can expect include:
Dusting furniture and wiping down surfaces
Sanitizing and cleaning bathrooms
Thoroughly cleaning your kitchen, including all appliances
Picking up and organizing clutter
Washing linens and folding laundry
Window washing
And other jobs you'd rather not do in your living areas, bedrooms, bathrooms, and kitchen
Benefits of Choosing Thai Cleaning Service
TCS is a unique, trustworthy cleaning service in your Baltimore area community, and our "Moms Cleaning Service" offers you benefits you can't find with other cleaning companies. Here's what makes us unique:
We hire mostly moms:  We understand how important it is to rely on your housecleaning service to be trustworthy. That's why the moms we hire are responsible, caring, honest individuals who understand household demands and family life. Not only are they background-checked and guaranteed to do a thorough job, but they will respect you and your household.
We offer personalized attention: Our cleaning services focus on you and your home individually, meaning you can expect the comfort and consistency of knowing the person who will clean your house — and because they only clean one house each day, our "Moms Cleaning Service" workers will know you, too! Our employees don't have to worry about rushing to another job after yours, so their full focus is always on you and your house. We promise they'll pay special attention to your needs and preferences.
We're local and family-owned: As a family-owned-and-operated business in the Baltimore area, we're a part of your community, just like you. Our local services ensure your house is taken care of by fellow parents and community members with the same interest in balancing work, family and quality of life. Larger house cleaning companies aren't from our region of Maryland. As a local house cleaning service, we take pride in the communities we serve.
We provide safe, no-commitment services: As a licensed and bonded cleaning company with full maid service insurance, TCS and our "Moms Cleaning Service" promise reliability, responsibility and a cleaning job done well every time. Plus, our services come without a contract or commitment — we trust you to trust us!
If you're ready to find out more about our "Moms Cleaning Service," call 410-864-8561 today to ask for more details.
[maxbutton id="1″ text="Contact Us Today"]