Thai Cleaning Service has been providing professional house cleaning services to residents of Bel Air, Harford County and the greater Baltimore area for more than 15 years. As a locally run maid service, we understand the needs of the community, and we strive to provide the best possible care to our friends and neighbors. After a long, hard day, the last thing that should be on your mind is sweeping floors or scrubbing toilets. We want to take that off your plate so you can thoroughly enjoy your family, your free time and your clean home. For trustworthy house cleaning you can rely on here in Bel Air, nothing beats TCS.
[maxbutton name="Get a Free Estimate"]
What Does Our Maid Service in Bel Air Do?
When you choose Thai Cleaning Service, you will get the same house cleaner each time. That's because most of our employees are local moms who have just dropped their kids off at school. We only assign one house per day so that all their effort is poured into making your Bel Air home as clean as possible.
We schedule our services weekly, bi-weekly and monthly.  We can also do one-time cleanings before moving in or after moving out of your home. We can do these chores and more, according to your preferences and schedule: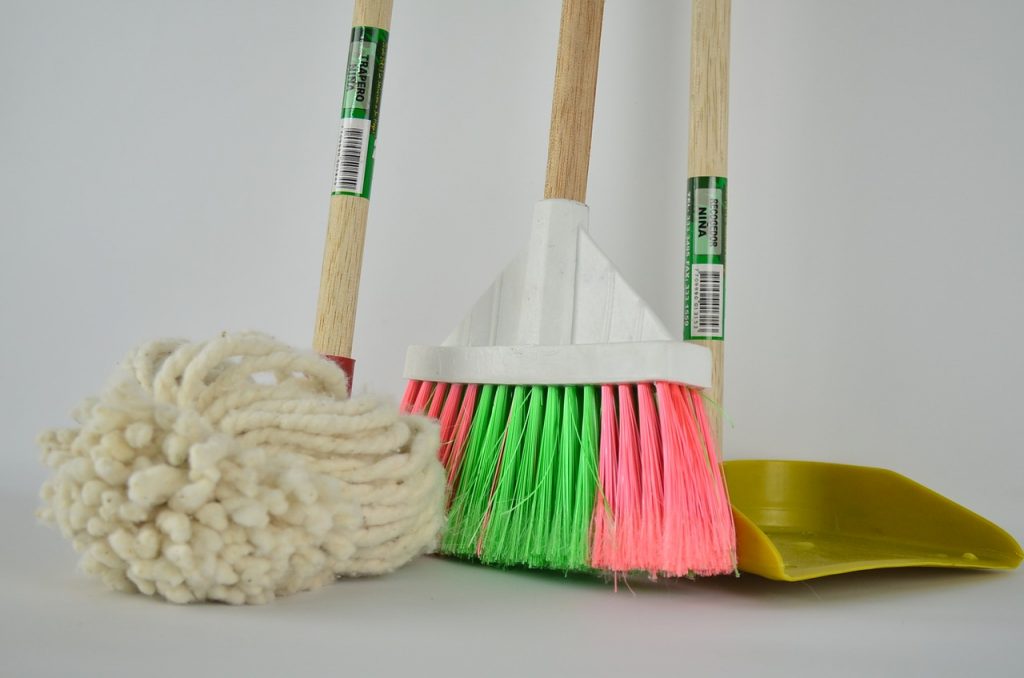 Sanitize all door knobs, drawer pulls and surfaces — especially helpful during flu season
Dust, vacuum and mop your floors
Clean your kitchen sink, countertops and appliance exteriors, including range hoods, using scratch-free Scotch-Brite Dobie® pads to keep your surfaces looking great.
Load dirty dishes and run the dishwasher so you come home to clean dishes
Sanitize and clean your bathroom, including floors, walls and shower tiles
Wash your sheets and towels
If you like, we can also de-clutter and organize desk and table-tops, pick up and put away items and fold or hang up clothes.
Want to skip spring cleaning? We can rotate in deep cleaning tasks monthly so when spring comes, the extra jobs are done. Just let us know the best way we can help you and we'll take care of the rest.
Do you have health concerns? Don't worry. We only use "green" certified cleaning products because they are safe for people, pets and our environment. We also inspect and clean our equipment after every cleaning. It's our way of ensuring the local Bel Air community is as healthy as possible.
Why Should You Hire Us?
When it comes to home cleaning services, we know what needs to get done, and we are good at what we do. Many of our customers in Bel Air and beyond have called us because family and friends gave us glowing referrals and because they finally realized:
Their busy schedule made it almost impossible to find time for chores
They had to give up their free time to do chores
They didn't have time for Spring cleaning
Their family relationships were starting to suffer
They were spending too much money on take-out, restaurants and convenience foods
They just don't like to clean
By giving us a try, they found the service and support they were looking for. What do we mean? Well, while everyone doesn't love cleaning, everyone does love a clean house — and that's what we give our customers. Whatever your reasons are for considering a cleaning service, you can count on us.
Your Community is Ours, Too
Our employees live in Bel Air, so they don't have a long commute to the homes they clean. Most are moms who want to work during the day, but still want to be able to drop their kids off and pick them up from school. They're happy because working in the Bel Air area saves them time and money, and we're happy because they're happy. Plus, because they only work at one home per day, they're not overworked and tired, and they're able to learn your individual cleaning preferences.
We are a locally-owned, family-run business based in Baltimore, and we love the communities we serve. Our customers are also our neighbors, friends and community members, and we continually strive to earn and keep their confidence and trust.  We guarantee the service we provide.
To learn more about us, watch our customer testimonial videos and read our reviews on Angie's List®.  There are more than 100 of them, written by happy customers in Bel Air and other nearby cities who describe our employees as professional, reliable, thorough and honest.  We couldn't agree more!
Interested? Schedule Your Free Estimate
The best way to know if a cleaning service is the right decision for you is to meet with one of our friendly staff members for a walk-through of your home. Be sure to tell them about your needs and concerns. They'll offer their suggestions, too, and answer any questions you may have.  They'll follow up with a cleaning plan and estimate tailored to your needs and budget.
It takes only a few minutes to call and set up an appointment. There's no cost or obligation to you – so give us call or email us today! You'll be glad you did.
[maxbutton id="1″ text="Contact Us Today"]